Food & Drink
Breakfast Buffet
Included with every room booking for residential attendees is a daily breakfast buffet served in the hotel's restaurant, providing you with the noutrients you need to help keep scurvy away.
Non-residential attendees can still partake in the breakfast buffet, but for a fee of 125 SEK per meal. This will have to be paid for on site, and can not be pre-paid online.
Dinner Buffet
Special dinner buffets will be offered at the hotel all days of the convention, with a different theme and a different selection of foods each day. To partake in the dinner buffets, you can either buy vouchers in advance through our online registration system for 130 SEK per meal, or you can buy them on location for 150 SEK per meal. Please see below for a detailed menu.
Eat Sweden
You will be taken on a culinary journey through some typical Swedish cousine with Pinky serving as your host. The meal consists of 3 dishes, and it must be pre-ordered through your online account. The cost per participant is 75 SEK.
Ice Cream Buffet (Sponsor Event)
We'll also be offering an ice cream buffet especially for our Nisse and Elver level sponsors. The buffet will offer three different flavours (chocolate, vanilla, and strawberry), whipped cream, meringues, sprinkles, and chocolate- and cola sauce.
Nisse have the option to pay a fee of 65 SEK to partake in the ice cream buffet. For Elver, the buffet is already included. Non-sponsors will not be able to participate and will have to get their own ice cream. Sorry!
Hotel Bar
For your liquid refreshments, you need look no further than the enchanting hotel bar, where you can seek refuge from both myling and draug, and purchase a selection of refreshing alcoholic and non-alcoholic bevereges. Be on the look out for our unique drinks menu with thematically appropriate cocktails!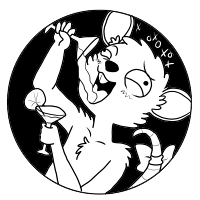 Drink responsibly!
Dinner Buffet Menu
Wednesday
Pulled pork/chicken. Slow cooking is the fad, and here comes a good meal for hungry new arrivals. A hearty dish of pork bathed in BBQ sauce cooked to tender perfection over a long time. Since that might not be for everyone, a side order of vegetarian or chicken is also available. Together with an assortment of condiments and salads, this feast should sate even the most world-weary traveler.
Thursday
Outdoors BBQ. A classical Scandinavian style barbecue cooked directly over coal, eaten in the great outdoors (or at least in the back yard). Both meat and vegetarian alternatives, most of them with risk of stains. This fact – together with the smoke – means that fursuiters appear at their own risk. The hotel has supplied us with a completely new brick barbecue which we will have the pleasure of being among the first to try out, under the supervision of their skilled personnel.
Friday
The ever-popular taco buffet! Tex-Mex has come far north to invade our hearts and palates. A wide arrangement of different fillings will be provided for this traditional Mexican dish–which nowadays is a very common Scandinavian weekend meal.
Saturday
Scandinavian favourites. For our glorious guests we will gather tidbits which can be commonly found in Scandinavia. Expect herring and to be surprised. Who knows? You might even find a new favourite dish! Scandinavian cuisine has been influenced by the rest the world and influenced it in turn, and it is so much more than just meatballs and brown cheese. Just to reassure you: the infamous fermented Baltic herring will not be present at the buffet.
Sunday

The chef's surprise
. For the brave souls holding out to the very last, we save the very best. Inspiration from what has been presented above will be combined into a smaller buffet for the ones remaining so that they will be able to hold out for the dead dog party... and all that is yet to come.