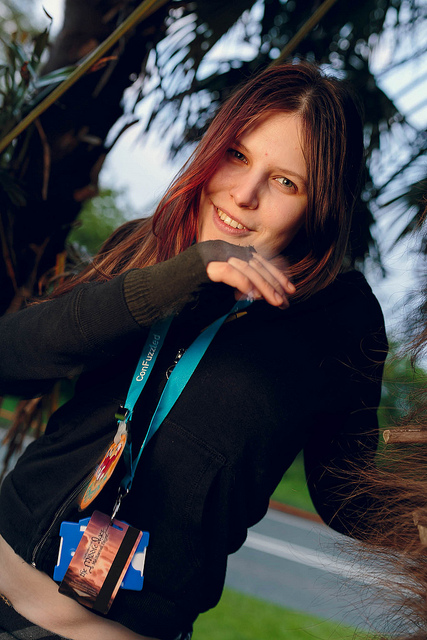 Photo by: KhakiDoggy
EosFoxx
This year's first guest of honour is the amazing and multi talented EosFoxx! She has been part of the furry community for ove ten years, making her mark on the fandom in various ways. Amongst other things, she is an artist, animator, dancer, and a fursuiter.
Eos has been an artist since childhood, and those of you who visit furry conventions around the world will have had the opportunity to see her works in various art shows. Eos has also produced book covers for works by authors such as Bernard Doove. As well as commissioned work, she maintains Fur Affinity and Weasyl galleries, and has produced featured art for popular events such as Golden Leaves Con and the Cologne Fur Dance—as well as the dual woodland backgrounds for this very website!
Eos also has a fursuit, a grey vixen called Phoenix. With Phoenix, she has participated in many fursuit dance competitions where she has impressed the judges with her graceful yet sexy elegance.
Eos cannot go very long without needing to create, organize, and simply do things. You will be able to see her in the Art Show, Guest of Honour events and all around the convention. She is a friendly and approachable person, so if you see her around the convention come and say hi to her.
EZwolf
Our second Guest of Honour is none other than EZwolf! Hailing all the way from Holland, he is a multi-faceted member of the furry fandom perhaps best known for the production of the first full length furry motion picture Bitter Lake back in 2011, though he has also made several other videos.
EZwolf has made his presence known among fursuiters and costumers with the creation of the EZCooldown vest which was released in 2013 at Eurofurence 19. The vest was welcomed with great acclaim and has improved the lives of many costumers and fursuiters the world over. EZwolf is also an accomplished actor and his stage presence is best remembered for his leading roles as Jordan Blake in the Eurofurence 16 production Jordan Blake and the Temple of the Four Winds, followed closely by his portrayal of Colonel Raden Drraer in Bitter Lake.
EZwolf has three suits: a black and white husky called North, a black wolf called Onyx which featured in Bitter Lake, and a realistic looking werewolf whose name is still a mystery to us. EZ will be causing all manner of mischief during the Guest of Honour events, convention and fursuiting events. If you see him around, come over and say hi!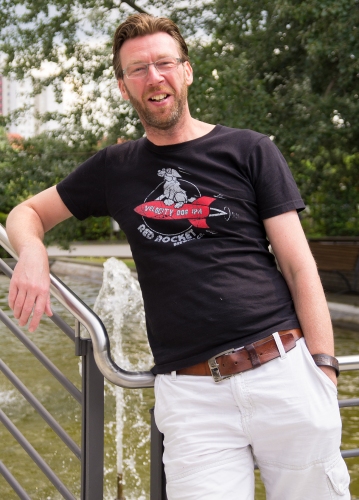 Photo by: NewEinstein