Bestiarum
Below you will find the collected vetter from our monthly Vette of the Month feature. Pay heed, for the information contained herein may very well save both your life and soul when traversing these oft dangerous woods.
Month of April: TROLL
In the dark forests or misty mountains, trolls can be found in many variations. Some are as huge as mountains with up to twelve heads and two tails, others are smaller and can be found living under bridges. Mostly ugly and monstrous with an immense hunger that none can match, trolls will kidnap, kill and destroy without hesitation. Most of them fear sunlight, as direct exposure will kill certain trolls by turning them into stone. Generally stupid and greedy, trolls are dangerous but easily fooled.
Found in all the Nordic countries, trolls have served as the the antagonists in many classic fairy tales. Trolls have made a huge impact on art, theater, music and movies as well. Worth mentioning are the play Peer Gynt by Henrik Ibsen with the famous "In the Hall of the Mountain King" piece composed by Edvard Grieg, the drawings by Theodor Kittelsen, and more recently the Norwegian-language monster movie Troll Hunter from 2010.
Easily the most well known creature from Scandinavian folklore with roots back to Norse mythology, trolls have scared and thrilled people for centuries, giving the lush forest and tall mountains of the north a frightening appeal in dark nights and cloudy mornings.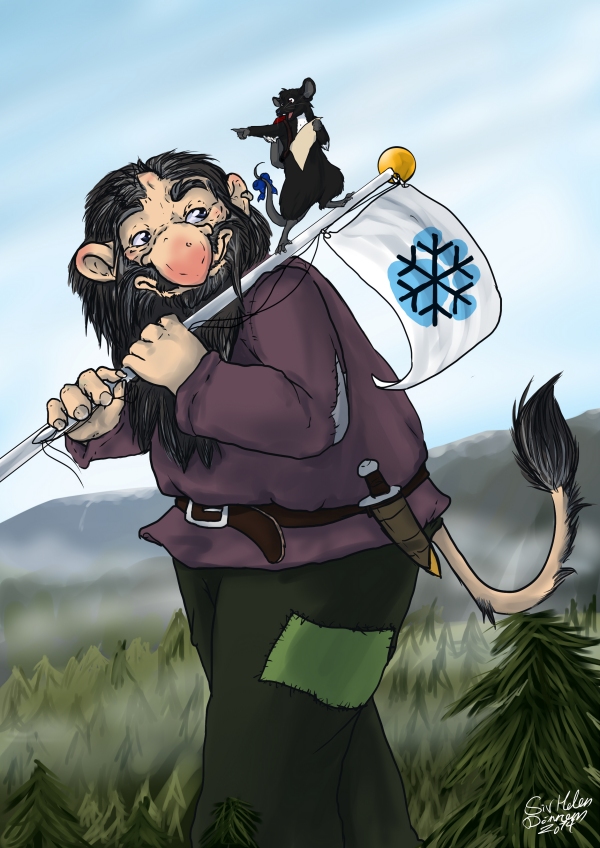 Artwork by
Sivi
.
Month of May: LYKTGUBBE
Near moors, bogs and marshlands, it is not uncommon for travelers to encounter ghostly, shimmering lights. When moving closer they may appear as glowing detached heads, or as men carrying lanterns. But when people approach, perhaps being curious and wanting to get a better look at the creature, the light will move further away, luring the traveler from the safety of the path and into the often dangerous wetlands.
A lyktgubbe (translated: lantern man, plural: lyktgubbar) is believed to be the soul of an unbaptized man or woman, trying to lure others into the water in the hopes that they may somehow get baptized, thus allowing their souls to rest. Some also believe that they could mark the location of hidden treasures, adding to the allure of following the lights. While their intent may not be malign, following a lyktgubbe has more than once resulted in death by drowning.
Stories are told all over the world of these glowing lights and ghostly visages, usually encountered in various wetlands and often leading travelers astray. Stories of their origins and intent do, however, vary greatly. Other popular names for them are jack-o'-lantern, fairy light, and will-o'-'the-wisp. Some may remember the latter from the Pixar movie Brave, where they lure the film's protagonist into the forest.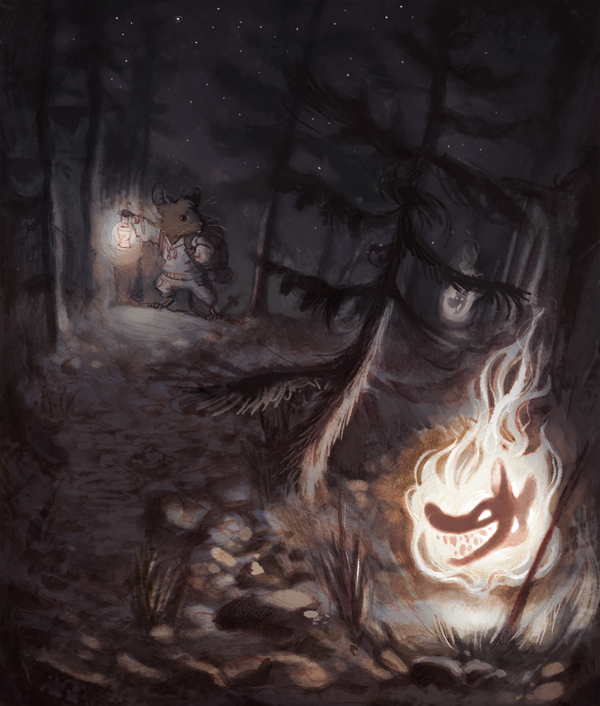 Artwork by Rowkey.