Food and Drink
Breakfast Buffet
Included with every room booking for residential attendees is a daily breakfast buffet served in the hotel restaurant, providing you with the nutrients you need to help keep scurvy away.
Non-residential attendees can still partake in the breakfast buffet, but for a fee of 125 SEK per meal. This will have to be paid for on site, and can not be pre-paid online.
Dinner Buffet
Special dinner buffets will be offered at the hotel all days of the convention, with a different theme and a different selection of foods each day. To partake in the dinner buffets, you can either buy vouchers in advance through our online registration system for 140 SEK per meal, or you can buy them on location for 150 SEK per meal.
-> Buffet Menu <-
Hotel Bar
For your liquid refreshments, you need look no further than the enchanting hotel bar, where you can seek refuge from both Kraken and Cthulhu, and purchase a selection of refreshing alcoholic and nonalcoholic beverages. Be on the look out for our unique drinks menu with thematically appropriate cocktails!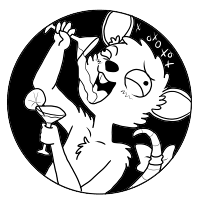 Drink responsibly!
Eat Sweden
You will be taken on a culinary journey through some typical Swedish cuisine with Pinky serving as your host. The meal consists of 3 dishes, and it must be pre-ordered through your online account. The cost per participant is 75 SEK.
Ice Cream Buffet (Sponsor Event)
We'll also be offering an ice cream buffet especially for our sponsors and super sponsors. The buffet will offer three different flavours (chocolate, vanilla, and strawberry), whipped cream, meringues, sprinkles, and chocolate- and cola sauce.
Sponsors have the option to pay a fee of 65 SEK to partake in the ice cream buffet. For Aquarians (Super Sponsors), the buffet is already included. Non-sponsors will not be able to participate and will have to get their own ice cream. Sorry!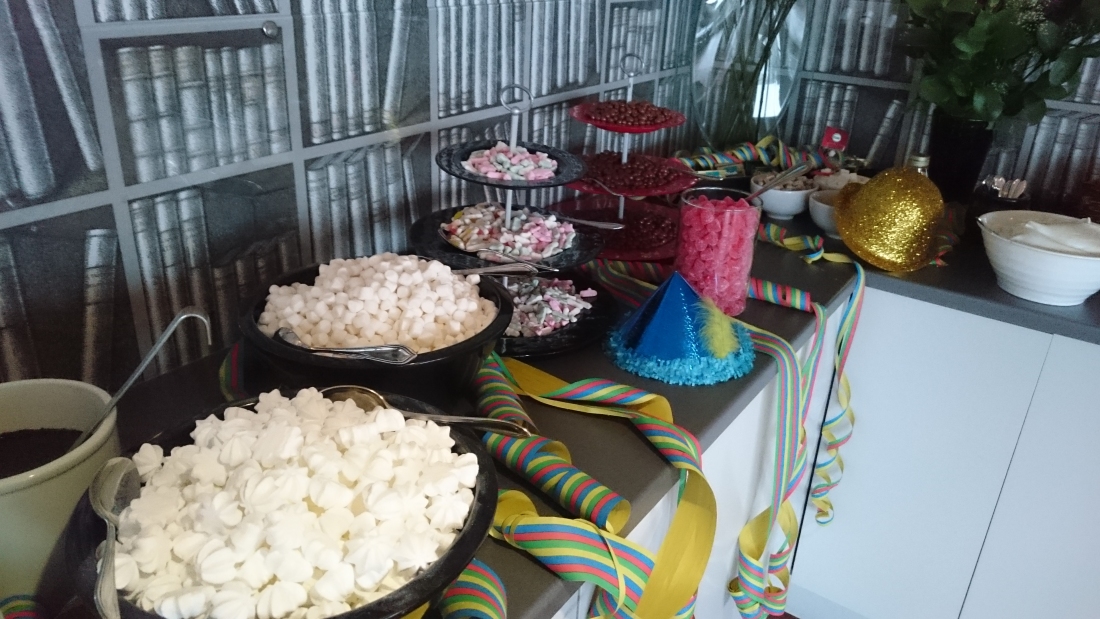 Delicious ice cream toppings.
Buffet Menu
Entire Convention
Every morning
Convention Breakfast
A festive frukost, from bacon and bread to Swedish filmjölk (cultured milk similar to yoghurt) and kaviar (cod roe with tomato sauce). A good start to an eventful day. Breakfust included free for residential attendees, 125 SEK for attendees not staying at the hotel (paid on location).
Super Early Arrival Day
Tuesday 1st of March
Pulled Pork/Chicken
A filling meal for all hungry early arrival furs. Slow-cooked pulled pork and chicken, including sides and vegetarian options.
Early Arrival Day
Wednesday 2nd of March
Baked Salmon
The staple food of Scandinavia. Grilled salmon with enough sides to make a meal unto themselves.
First Convention Day
Thursday 3rd of March
Taco Buffet
The ever popular Swedish-infused Mexican buffet. Your choice of hard and soft shells with a plethora of meat and vegetables.
Second Convention Day
Friday 4th of March
Seafood Buffet
A thematic seafood buffet, including a robust selection of vegetables and sides. Do come by and sea what's on offer.
Third Convention Day
Saturday 5th of March
BBQ Buffet
Classic Scandinavian barbeque, best enjoyed in the outdoors. Includes both meat and vegetarian alternatives, along with sauces and salads for a sumptuous caloric refill for any convention goer.
Last Convention Day
Sunday 6th of March
Scandinavian Favourites
As a parting meal there will be a Scandinavian buffet with a tasty selection of local specialities.
Late Departure Day
Monday 7th of March
Nothing!
The convention is over and it's time to go home. There will be no dinner on this day, so be sure to fill up on breakfast foods in the morning!
Vegetarians, people with allergies and other with special dietary needs: we care about our herbivore friends, so if you have a special diet, please let the hotel know ahead of time for preparations. Please see this page for the hotel's contact information.