Hotel rooms are still available for NordicFuzzCon 2018
Still want to attend the convention but missed getting a hotel room?
Don't worry! You can still attend and have fun together with your friends. It's still possible to reserve a room at our second hotel (though at normal hotel prices) and access our free shuttle service, which departs every 30 minutes around the clock. Simply board the bus, read/write a tweet while the driver takes you to the convention in under 10 minutes and enjoy. It's that easy and convenient, and you are never far away from your friends or your hotel accommodation.
You also get access to a locked luggage storage, access to the pool area for a shower after fursuiting, and the possibility to leave your fursuit in the fursuit lounge at the convention hotel.* Dealers will also be able to store their merchandise in the Dealers' Den.

So how do I do it?
It's easy! Buy a convention ticket with the option 'No Accommodation', and then click here to access the second hotel's official website to book a hotel room. (Make sure you add any extra days you want.) After booking, please let the registration team know that you have reserved a room at the second hotel using the comment field when registering for the convention.
* Storage at your own risk.
Important Times
Registration for NordicFuzzCon 2018 will open on Saturday the 9th of September at 20:00 (8 pm) CEST.
Second hotel booking deadline - Sunday 5th of December at 23:59
The last chance to register or make changes to existing registrations is February 9th at 23:59
Opening ceremony - Wednesday 28th of February 15:00 - 16:30
Closing ceremony - Sunday 4th of March 13:00 - 14:00
How to Register
To register for the convention, you will need an account on our website. Accounts from previous years can be used again and if you don't have one already, it is highly suggested to create one before the registration for the convention opens to speed up the registration process.
Badge numbers are assigned according to the time of payment, not the time of registration. This means it is possible to get a lower badge number than someone who signed up before you if you're faster at paying.
To pay, you will have to use bank transfer, Swish (Swedish banks only), or credit card (ePay). Unfortunately we do not accept PayPal. Paying with a credit card is subject to a fee of 1.8% of the amount.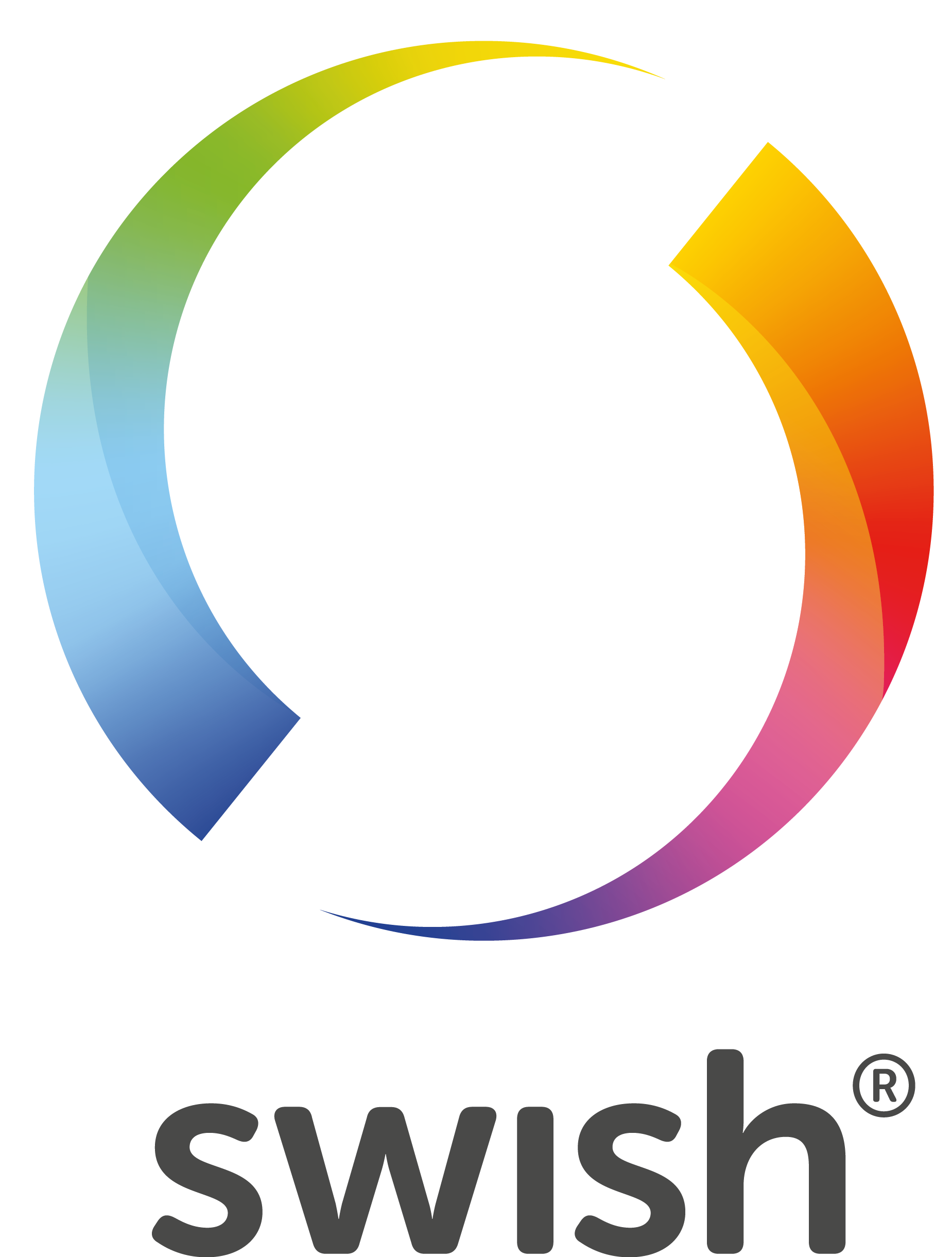 Once you have registered you will receive an invoice by e-mail containing all the information you need for paying. Please note that registrations are manually screened, so it may take a little while before your invoice arrives. There's no need to panic!
The room prices are per person, and if you wish to share a room with someone you will both need to have the same room type.
Rather than paying all at once, you can choose to pay for your booking in smaller installments. You can pay installments using Swish, bank transfer and credit cards.
For information about prices, please see the prices page.
If you have any questions or experience any problems, please send an e-mail to [email protected].
Swish
All major Swedish banks have started a collaboration for simpler, faster money transfers among people and organisations. This collaboration is an app called Swish. The app enables money to be sent and received instantly, regardless of your bank!
We at NordicFuzzCon embrace Swish: It's very fast and convenient, and we encourage all of you Swedish furs out there to pay your NordicFuzzCon invoice using Swish instead of a credit card or regular bank transfer! In order to do this, you will need to activate Swish for your Swedish bank account. You can do this through your Internet bank or by calling your bank.
When you activate Swish you will have to decide on a limit for the maximum amount of money you can spend per day. This can be changed later. You may have to set this limit sufficiently large to comfortably pay for your NFC room and registration with any extras. Alternatively, most banks let you specify a different limit for one specific day only, which can be useful when you need to pay for something more expensive like the NordicFuzzCon hotel or convention ticket. You can increase your limit for one day only by contacting your bank.
Important Deadlines
To qualify for the early booking discount, you must have signed up for a ticket no later than November 1st.
The deadline for booking rooms at the second hotel using our booking system (which is required for certain perks and strongly recommended) is December 5th.
For installments the full payment must be made no later than January 5th OR within 75 days after your registration was approved (whichever comes first).
Images for both your conbadge and fursuit badge must be uploaded no later than February 9th.
The last day on which you can establish or edit room shares is February 15th.
Registration FAQ
Is there a minimum age for attending the convention?
All attendees must be 18 or older from the first day they arrive at the convention.
What kinds of ID are accepted for check-in?
You must present some form of valid photo ID with your date of birth on it at registration, such as a passport, driver's license, or national ID Card. If you are unsure whether your form of ID is acceptable or not, please e-mail [email protected] well in advance of the convention for confirmation as to its acceptance.
How are badge numbers assigned?
Badge numbers are assigned according to the time of payment, not the time of registration. So it's possible to get a lower badge number than someone who registered their booking before you, if you're faster at paying.
What forms of payment are accepted during registration?
We accept bank transfers, Swish, and credit cards. We do not currently accept PayPal. We apologise for any inconvenience.
Can I pay in instalments?
Yes. Rather than paying all at once, you can choose to pay in a total of at most 3 instalments. Your first instalment payment must be made no later than 10 days after having been approved, and must be for 30% (or more) of the total amount due. Later payments must be 500 SEK or more (or the entire outstanding amount if less than 500 SEK remains unpaid). The booking must be fully paid off within 75 days of having been approved, but no later than January 5th. An additional cost of 50 SEK must be included in each payment when paying in instalments.
How quickly do I need to pay?
You need to pay for your booking no later than 10 days after having been approved, unless you are paying in instalments. If you are paying in instalments, you must pay your first instalment no later than 10 days after being approved. In addition, your booking must be fully paid off within 75 days of having been approved (but no later than January 5th).
Will there be on-site registration for NFC 2018?
Yes.
Can I transfer my booking to someone else?
A booking transfer is possible as long as the recipient has a valid login in the system and no other booking. Please send an e-mail to [email protected] if you're looking to transfer a booking.
Can I upgrade to sponsor/super sponsor after registering?
You can do this yourself on your account page.
NOTE: You can also downgrade (by contacting registration), but we cannot refund the price difference if you've already paid us a higher amount.
Can I change my booking to another room category?
Yes, with some restrictions. Initially, we only permit changing your entire booking (all days you have booked) from one room type to another. You must send an e-mail to [email protected] to change room category or to add or remove optional hotel nights from your booking during this period.
After a few months, when the initial rush to register has died down, we hope to relax this restriction and allow bookings that mix and match different categories for different periods (e.g., twin room on early arrival plus party room on main convention days). When/if we do this, it will be possible for you to add extra hotel nights and change your room type yourself right on your booking page, without help from registration.
When adding hotel nights or changing your booking to a more expensive room category, you must pay the difference between the two prices. (Standard 10-day payment deadlines apply.) No refunds are given if your revised booking costs less than you've already paid.
Can I get a refund if I cannot attend (for any one reason)?
No, sorry. No refunds are possible. Your best bet is to visit our forum and try to sell your booking (ticket and any hotel room spot) there. You can then ask registration to transfer your booking to the buyer.