Party Boat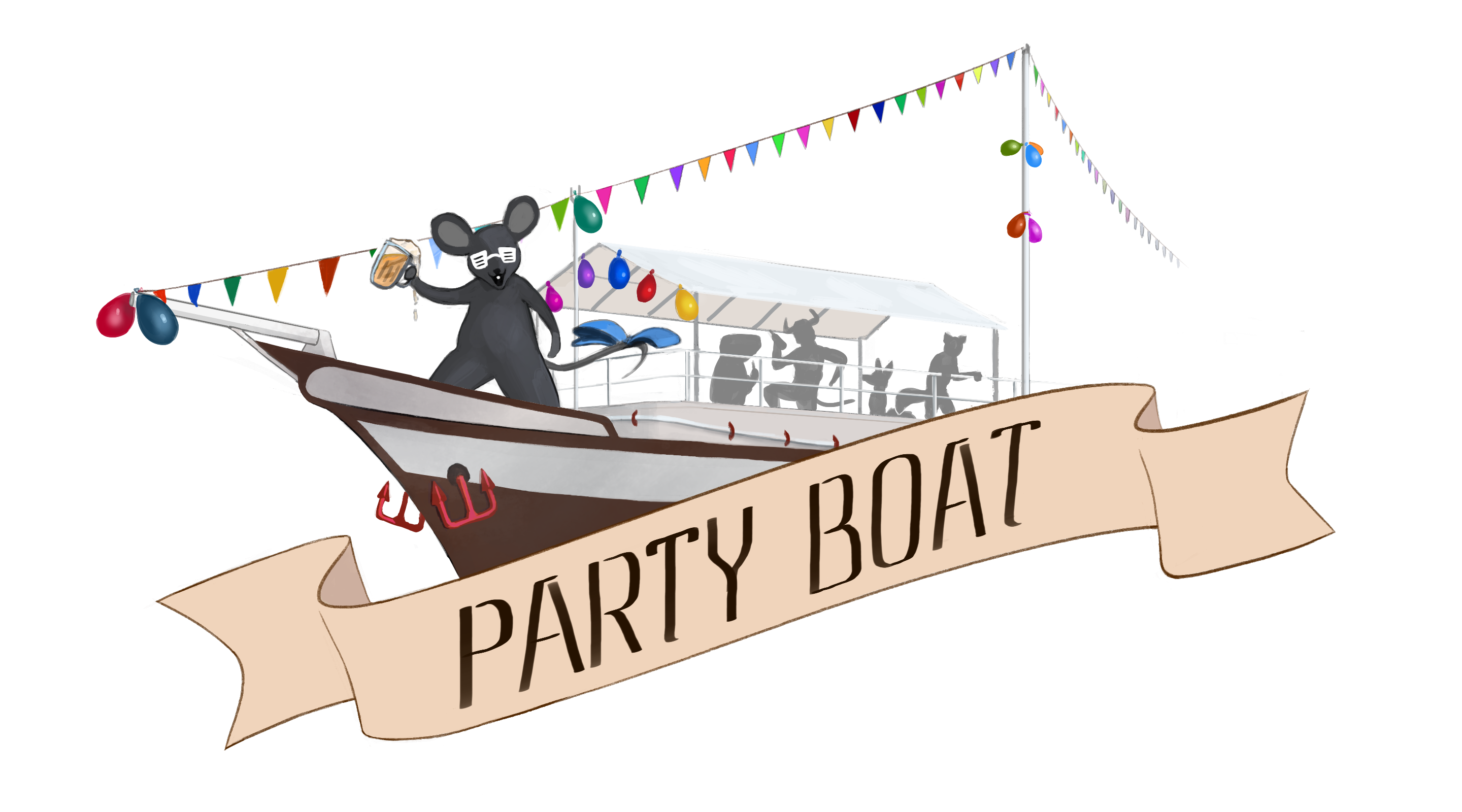 Party Boat - All Paws On Deck!
NordicFuzzCon is happy to present our new experience for our party-loving attendees! "Blå Båten" is a spacious, two-floored Party Boat, anchored a mere 5-minute walk away from our partner hotels, and will be hosting nightly parties organized by our attendees - in collaboration with NordicFuzzCon. The rustic, yet elegant Party Boat includes a stage that can be fitted to their liking, be it a DJ, musician(s) or a host for different activities.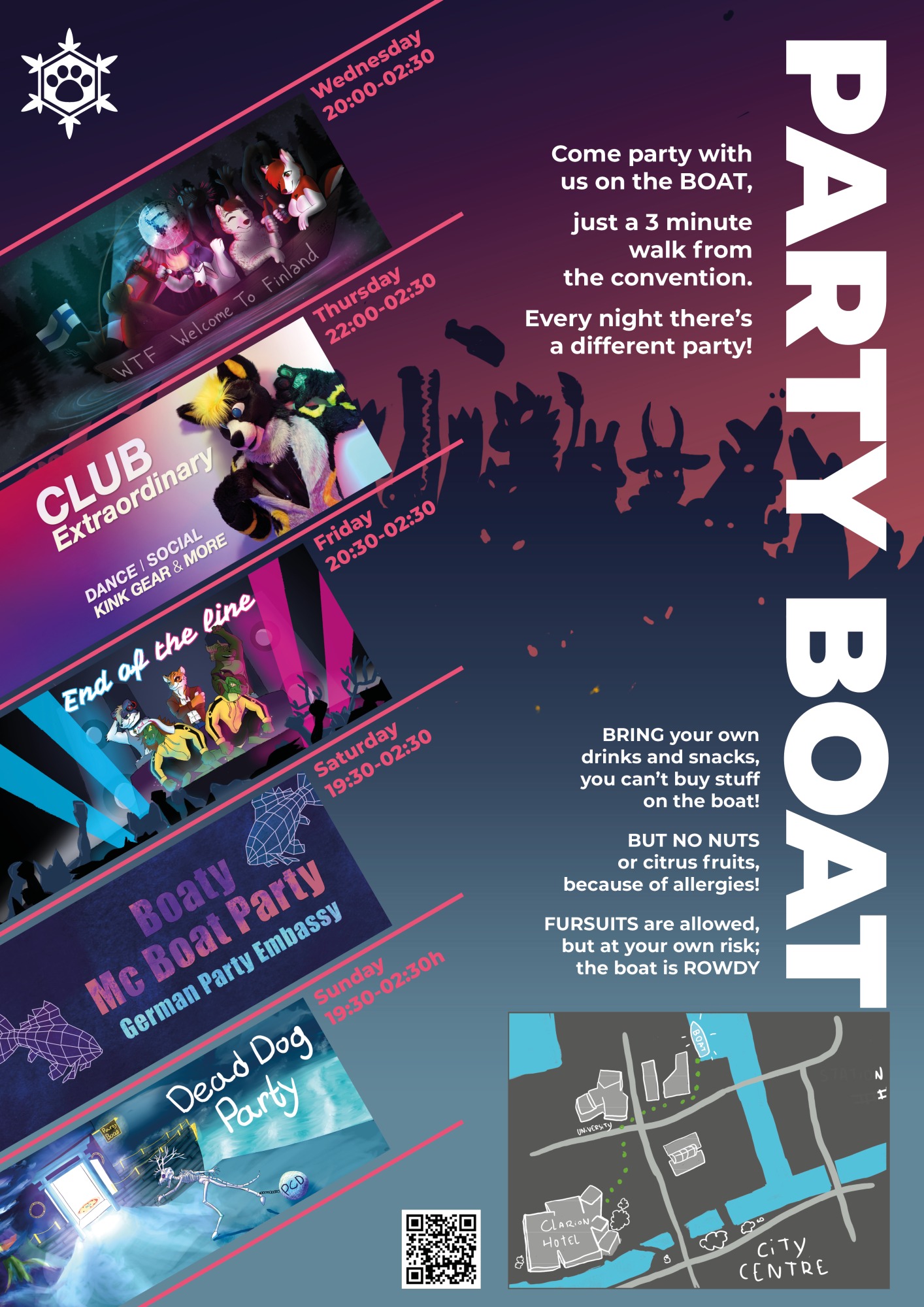 Party Boat Schedule
Wednesday: WTF - Welcome to Finland (20:00-02:30)
Thursday: Club Extraordinary (NSFW) (22:00-02:30)

This event has extra rules, which may be viewed on this page.

Friday: End of the Line (20:30-02:30)
Saturday: Boaty Mc Boat Party on a Boat (19:30-02:30)
Sunday: Dead Dog Party (19:30-02:30)
The possibilities are endless, as party organizers have the freedom to shape their party to their desire. With the capacity to hold 150 people, no fur shall be left behind, as the boat will be open to all NordicFuzzCon attendees with a valid convention badge. In addition to it not being within the hotel compound, or in a public area, anyone will be able to bring and consume their own foods and drinks on board. Come down to the boat during NordicFuzzCon 2020 and party while the night is young!
Blå Båten's location: https://goo.gl/maps/77AKjKVE4hxG3ixk7
As our slogan 'All Paws on Deck' implies, you will be able to shape the party after your own ambitions. If you're interested in organizing a party on our upcoming Party Boat, take a look at the page linked below for more information!
Q&A
Are NordicFuzzCon attendees able to party anywhere else besides at the Party Boat?
Yes, people can party at numerous locations. Attendees can still hold their own room parties within their hotel rooms, whether open to everyone, or private - although it's still necessary that they follow our convention rules, and don't disturb neighbouring rooms with noise. More information can be found in our Rules of Conduct and on the Hotel FAQ page.
Is this a free event or does it require a ticket?
Updated
The Party Boat is completely free for any attendee to attend.
Can I purchase alcohol or food at the Party Boat?
Updated
No, you are not able to purchase alcohol or food.
Am I allowed to bring my own food and drinks to the Party Boat?
Yes, but with the exception of peanuts, citrus fruits and other goods that may cause airborne allergic reactions for other attendees. Remember to be considerate of others!
How long will we be able to party?
The opening and closing time for each party depends on the party-organizers and NordicFuzzCon. But rest assured, you will be able to party from late evening to well past midnight. Specified times will be announced and published along with our schedule.
Will we set sail?
That would be fun but, alas no. The boat will be anchored at all times.
More information will arrive soon!
For further questions, please send an email to: party@nordicfuzzcon.org