Fursuit Extravaganza
Welcome to Fursuit Extravaganza, the third weekend of [email protected]! The fun is not over yet, as we will have plenty of shows and games just for you. Come check it out!
Starting Time
Saturday 20th of March 18:45 CET - Fursuit Extravaganza Kickoff
Saturday 20th of March 18:54 CET - Virtual fursuit parade
Be sure not to miss out on…
| Event | Time | Platforms |
| --- | --- | --- |
| Cosmopunk! Podcast | Saturday 20th - 17:30 - 18:30 | Main stream |
| Fursuit Extravaganza Kick-Off | Saturday 20th - 18:45 - 19:00 | Main stream |
| Furry Fortunes | Saturday 20th - 19:00 - 20:00 | Main stream |
| Fursuit charades - LIVE Performance | Saturday 20th - 20:00 - 21:30 | Main stream and Discord |
| Powerpoint Karaoke (Improv.) | Saturday 20th - 22:00 - 23:30 | Main stream and Discord |
| Cassidy Civet in Concert! | Saturday 20th - 23:30 - 00:30 | Main stream |
… and there's plenty more! Be sure to look at our schedule.
Join the conversation and create engagement by using our official hashtag #NFCatHome!
What the Fuzz Is Going On?!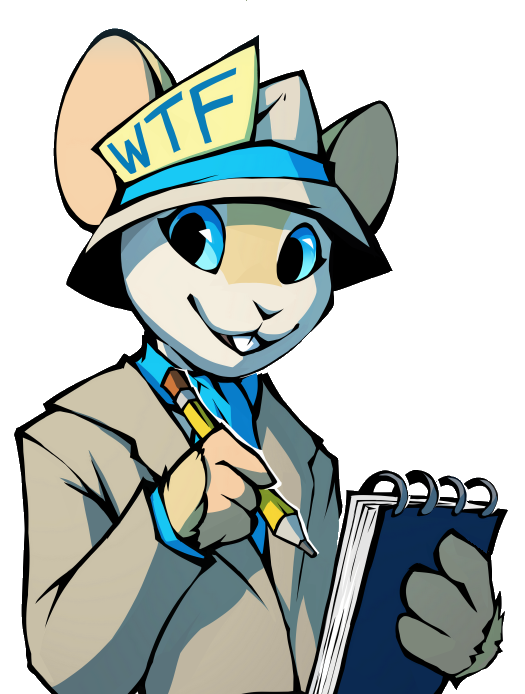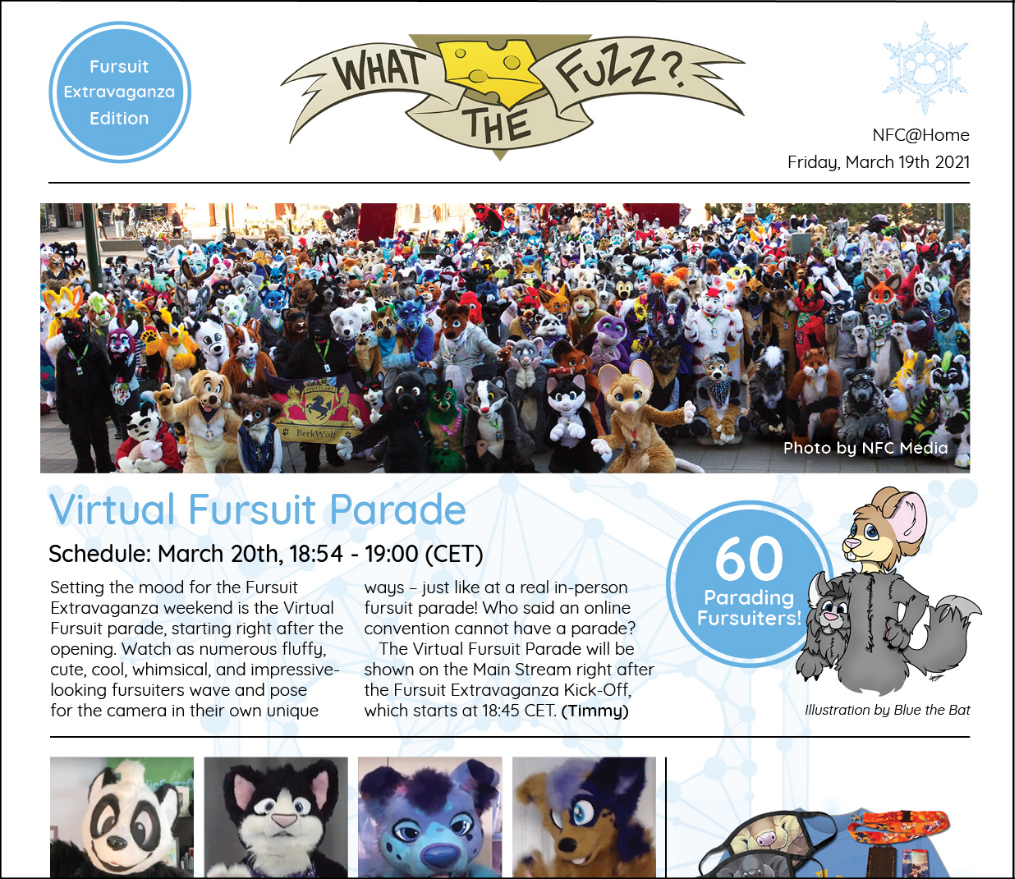 Find out some of what's going on during [email protected] by reading our weekly convention newspaper!
Cosmopunk! The Furry Starfinder Podcast
To tide you over until the games and fun start Cosmopunk is entertaining you with one of their favourite episodes, annotated for new viewers. Join the crew of the Laika 7 as Cowboy Bebop meets Red Dwarf in an Actual Play, comedy Starfinder podcast.
Virtual fursuit parade
Directly following the opening ceremony you will get to enjoy our Fursuit playfulness compilation, the Virtual fursuit parade. Fursuits are a big part of NFC, and because of this we have gathered plenty of fluffball's videos. Come with your friends and enjoy an amazing production where you will see plenty of frequent and new Fursuiters that are part of our Convention.
Furry Fortunes
Just like in Family Fortunes, Furry Fortunes is a program where furries show the world how much they know about the Furry Fandom, answering "every-fur-day" questions. It's all about knowledge and speed!
Fursuit charades
Remember the Fursuit Charades? We are happy to announce that they are back! This beloved gameshow features several Fursuiters that you might know, doing fun and silly things. Is that a cat? A dog maybe? Find it out!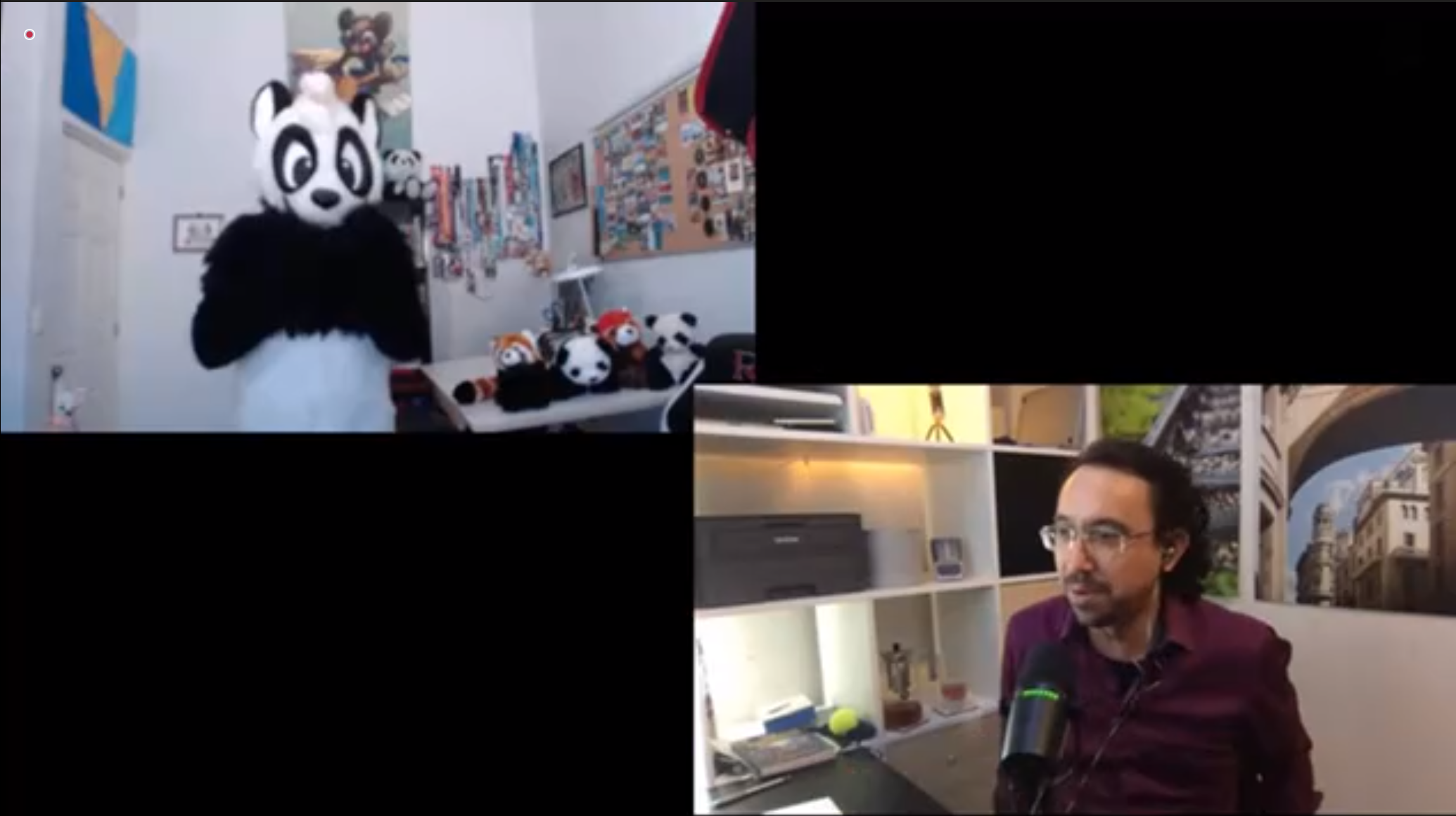 Furmeets around Sweden, Tips & Tricks
Join us on this adventure while Aaron N Ren talks about the +20 furmeet related groups that you can find in Sweden. If you are wondering how to host your own event, we have got you covered! Aaron will teach you everything you need to know about planning and running your own gatherings!
Powerpoint Karaoke
Welcome to my presentation about… flying foxes?! Yes! That's what Improvised Powerpoint Karaoke is about. Our great hosts will delight us with their completely improvised presentations while the powerpoint slides guide them!
Charity: Odsherred Zoo Rescue
Odsherred Zoo Rescue is Denmark's first and only rescue center for exotic animals. They provide a shelter for 600 animals from 100 species that were rescued from experimental laboratories, fur farms, private persons, smaller zoos or other unpleasant living conditions.
Don't miss our charity events (see the schedule button at the top) and the bonus content that might be unlocked during the convention. More charity information and our stretch goals can be found by clicking the link below.