Music Festival
Join us for an evening of music!
Live and pre-recorded, acoustic and electric, American stuff, European stuff, … Anything you could need to get that tail moving.
Starting Hours
Friday 12th of March 19:00 CET - Make music with Raptorjesus
Saturday 13th of March 16:00 CET - Jake's Home Concert
Be sure not to miss out on…
| Event | Time | Platforms |
| --- | --- | --- |
| Baxxter & Burr Concert | Saturday 13th - 17:00 - 17:30 | Main stream and Discord |
| Cosmik and Rhubarb ruin NFC Live Performance | Saturday 13th - 18:00 - 19:00 | Main stream and Discord |
| The SnOwOflakes in Concert | Saturday 13th - 19:30 - 21:00 | Main stream |
| Acron: Attack of the Squirrels! | Saturday 13th - 21:00 - 22:00 | Game |
… and there's plenty more! Be sure to look at our schedule.
Join the conversation and create engagement by using our official hashtag #NFCatHome!
What the Fuzz Is Going On?!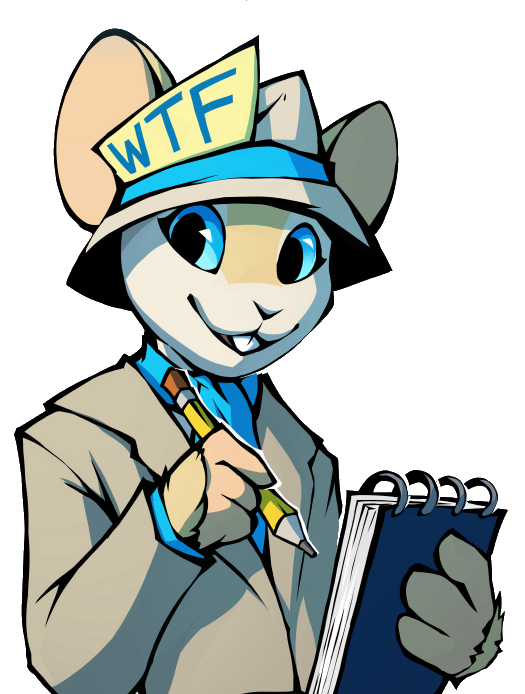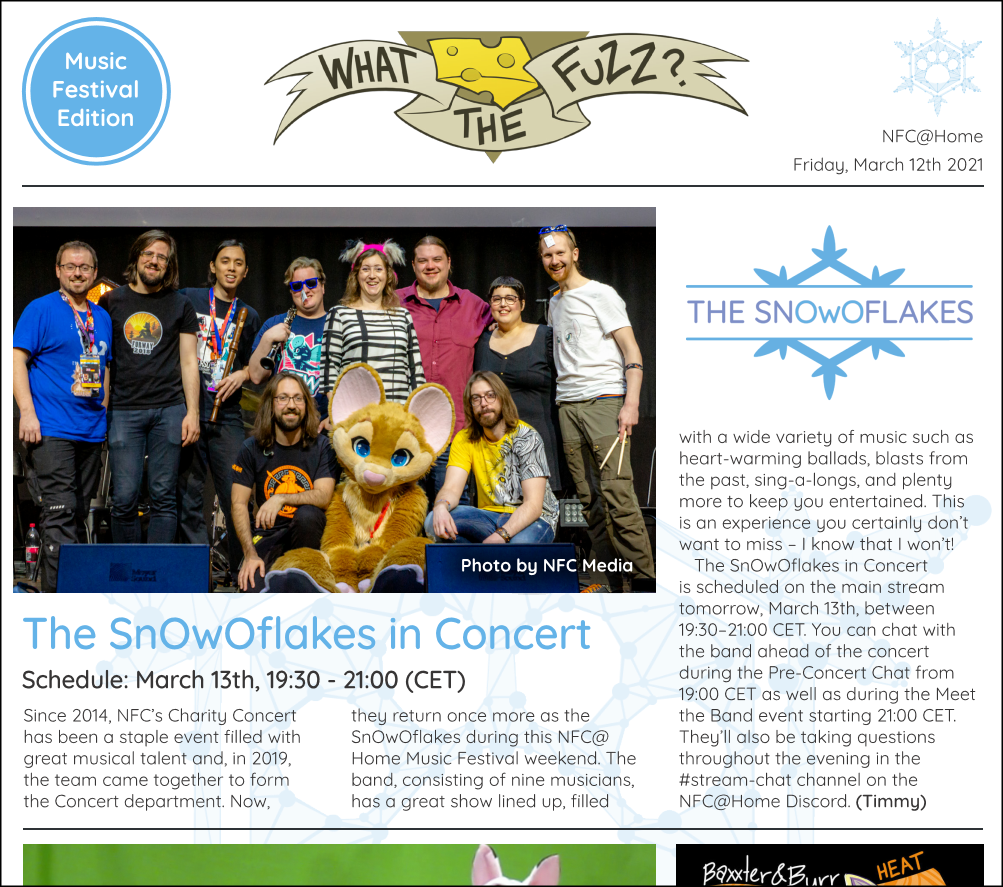 Find out some of what's going on during [email protected] by reading our weekly convention newspaper!
Musicians
Cosmik and Rhubarb Making their NFC debut, this music duo from Florida is known for ruining various American conventions as well as Eurofurence and Furvester.

Jake M Jake is a singer / song-writer who has performed at NFC and Confuzzled multiple times before and performs original music.

Baxxter and Burr Returning with a mix of music uniquely suited for NFC.

The SnOwOflakes The official NFC band made up of people from all across Europe: From Italy and Portugal, to Norway and Sweden, to Germany and Bavaria.

Ras-B, Cosmik, Kana, Djem, SneakyBitez, Blaze and StarFoxCoon are DJ's from all around the world. They will be presenting you with sets consisting of a variety of genres and styles from Eurovision songs to EDM to Techno and much more.
Pre and post concert chats
In addition to the performances by the musicians, there will be a chance to meet with them as well. Check the schedule to see when they will be available!
Charity: Odsherred Zoo Rescue
Odsherred Zoo Rescue is Denmark's first and only rescue center for exotic animals. They provide a shelter for 600 animals from 100 species that were rescued from experimental laboratories, fur farms, private persons, smaller zoos or other unpleasant living conditions.
Don't miss our charity events (see the schedule button at the top) and the bonus content that might be unlocked during the convention. More charity information and our stretch goals can be found by clicking the link below.