Hotel
Quality Hotel Winn Haninge is within easy walking distance of the local commuter train and Haninge Centrum shopping center, which features more than 70 stores. It is a five-minute walk to scenic Lake Rudan, where you can enjoy skiing, swimming, and barbecuing. The center of Stockholm is only 20 minutes away by car or 30 minutes by commuter train.
Click here to view our promotional video from the hotel.
The hotel also features free WiFi for all ettendees. No need to worry about missing out on the latest tweets!
---
There are in total 14 meeting rooms on the hotel premises, the largest of which can accommodate up to a maximum of 200 people. The hotel also features an exercise room, sauna, and sundeck. The convention will be to making use of many of the hotel's various rooms for events and panels, as well as the lobby and lounge areas of the hotel.
---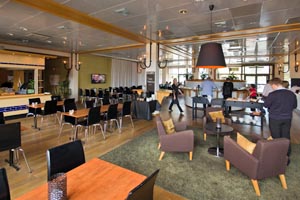 The hotel has a dedicated restaurant which will be used for both the breakfast buffet and the dinner buffet. Two bars - in the restaurant and hotel reception - provide refreshments. The lobby area of the hotel features extensive lounge seating as well as a billard table which is free to use.
---
Room Types
There are four different room types available: four-bed rooms, two types of double rooms, and single rooms. Prices for the different room types can be found here.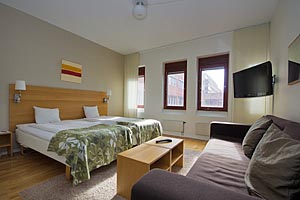 Four-bed room:
Four-bed rooms are the largest rooms available, at 27 sqm.
NOTE: Two of the beds are sleeping spots on an extendable sofa, the other two are on regular beds.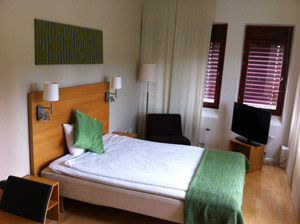 Standard double room:
All our double rooms have a floor area of about 16 sqm, and one queen sized bed is shared. The bed is 140 cm wide.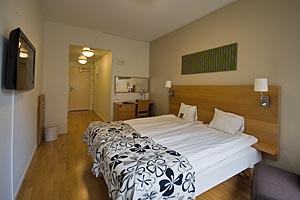 Twin room:
The twin rooms are 20 sqm, with two 90 cm wide beds which can be pulled apart.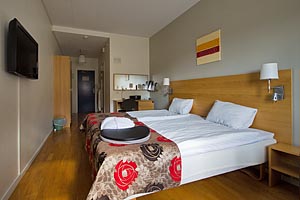 Superior twin room:
Compared to the standard twin rooms, these rooms feature a speaker system to which you can connect your phone or mp3 player, a laptop tray, bathrobes, and hot water facilities for preparing coffee and tea. There is also a minibar available.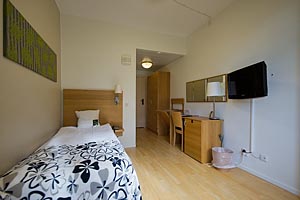 Single room:
Our single rooms have a floor area of between 14 sqm and 16 sqm and feature a single bed between 90 cm and 140 cm in width.